Project at a Glance
Whitman provided multiple key functions to help design an 8 MW ground mount PV solar system in Howell, NJ.
Responsibilities included: project developer, project financing, civil engineering, geotechnical investigation, engineering and design, and construction administration.
Project Size
8 MW ground mount PV solar system
Key Words
Photovoltaic, solar system, energy efficiency, energy design, structural engineering, electrical engineering, NJBPU, NJDCA, ground mount
Overview
Whitman served several key functions on this 9.936 MW (DC), 8 MW (AC) ground mount photovoltaic system in Howell, New Jersey. Functions performed included:
Project Developer – Whitman worked closely with the property owner to modify the project o that it complied with the system size limitations imposed by the New Jersey Board of Public Utilities (NJBPU). Whitman secured amended approvals from the municipality and filed the required documents with the NJBPU.
Project Financing – Whitman took the approved project to market and secured the sale of the system to a subsidiary of a New Jersey based utility. Whitman worked closely with the property owner and his representatives to finalize the sale of the system and long term land lease.
Civil Engineering – Site surveys, system layout, storm water calculations and zoning support were provided by Whitman. The project was reduced in size and required new approvals from the Howell Township Planning and Engineering Departments.
Geotechnical Investigation – Whitman performed investigations and support services of existing conditions for the selection of racking support foundation, along with site grading and excavation spoils management.
Engineering and Design – Whitman provided full electrical design and construction permit drawings, which were approved through the New Jersey Department of Community Affairs (NJDCA) Electrical Permit Division.
Construction Administration – Whitman worked alongside the contractor and the system owner to provide support through the utility interconnection process in obtaining necessary easements, as well as all approvals of shop drawings, preparation of conduit pull calculations and on site observations. This project was fully constructed and commissioned in November 2014.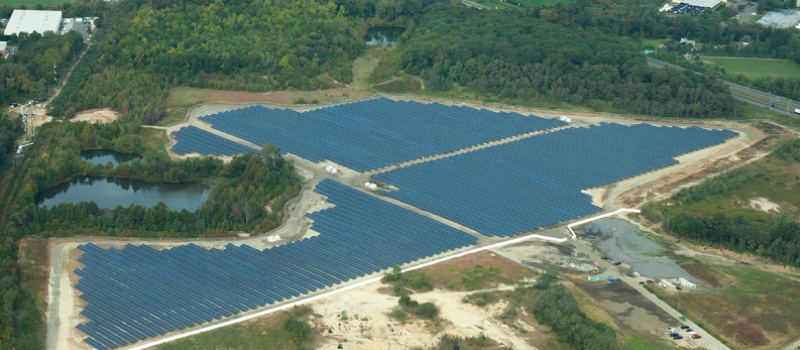 PROJECT SITE