The Occupational Safety and Health Administration (OSHA) is the main federal agency responsible for the enforcement of safety and health legislation. OSHA recently enacted rules regarding the exposure to silica dust. They implemented a new measure that reduces the allowed exposure to silica from 250 micrograms per cubic meter over an eight-hour period to 50 micrograms. The rule also requires companies to record worker exposure to silica and to provide medical exams for exposed workers.
Crystalline silica is a basic component of soil, sand, granite and many other minerals. These minerals can become dangerous respirable size particles when workers chip, cut, drill or grind objects that contain crystalline silica. Crystalline silica is dangerous because it has been classified as a human lung carcinogen. Additionally, breathing crystalline silica dust can cause silicosis, which in severe cases can be disabling or even fatal.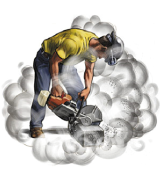 The new rule is part of a national emphasis by OSHA for crystalline silica to account for a minimum of 2% of their inspections. OSHA recently performed a crystalline silica inspection and fined a New Jersey firm after OSHA deemed the employer provided inadequate protections to their workers.
Specifically in this case, the employer failed to:
Develop and implement a written respiratory protection program for employees required to wear respirators during concrete mixer cleaning operations.
Provide medical evaluations for employees required to wear respirators to determine their ability to use them without their health being compromised.
To read the full rule, click here.
Whitman can provide expert insights into how to effectively comply with the regulations that apply to your facility with practical compliance strategies. Our staff includes a Certified Industrial Hygienist (CIH) as well as active members in many industrial trade organizations which allows us to monitor and evaluate regulatory changes.
If you would like to request a quote for a specific compliance related need, or coordinate a convenient site visit, please contact Mark Hasting for a free consultation:
Mark Hasting, CIH, CSP, LSRP, PMP
Director
mhasting@whitmanco.com
Office: (732) 390-5858
Posted on May 25, 2017